The Chlamydia Epidemic – UK and Worldwide
Across the world, Chlamydia is a growing health problem for men and women alike. While with many sexually transmitted infections there are early signs and symptoms of infection, Chlamydia can often go undetected for months or even years until it is too late to prevent the damage caused by secondary complications of the infection.
In terms of rates of infection, it is now commonly thought that Chlamydia has reached epidemic proportions. The World Health Organisation reports that over 1 million people contract a sexually transmitted infection across the world every single day, with Chlamydia being the most widespread of all.
The last full study carried out by the World Health Organisation suggested that an estimated nearly 106 million people worldwide in a year had contracted Chlamydia. That was in 2008, and the rate of spread is likely to have grown since that data was published. Comparisons show that in the course of three years, the number of infections grew by four per cent. That means that today, it's likely that some 114 million people are likely to contract the infection during this year at a conservative estimate.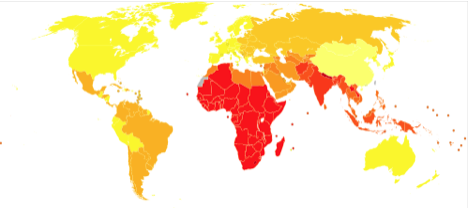 Chlamydia is prevalent all over the world. In Africa and Asia, it's more likely to develop serious complications due to lack of detection and treatment
Source: http://upload.wikimedia.org/wikipedia/commons/thumb/f/f2/Chlamydia_world_map_-_DALY_-_WHO2002.svg/500px-Chlamydia_world_map_-_DALY_-_WHO2002.svg.png
Not a Third World Problem
There is a tendency to think that sexually transmitted infections tend to happen in larger numbers in countries that are less well developed. While this is certainly true to some extent, with the rates of HIV and AIDS at the highest levels in sub-Saharan Africa and India where living conditions are poor and the numbers of people living in poverty is high, the levels of infection are gaining momentum in so-called developed countries in the western world.
In fact, rates of infection amongst the population across the African countries for Chlamydia (hub page) is relatively low compared to other parts of the world. While around 2.5 per cent of the population of the African continent are thought to have contracted Chlamydia during 2008, rates amongst women in the Americas – which includes South American countries – is thought to be as high as 7.6 per cent.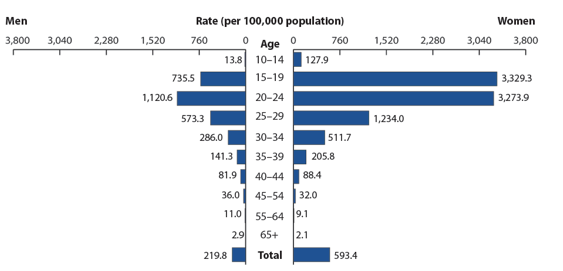 Rates of Chlamydia in the US are high too
Image Source: http://www.cdc.gov/std/stats09/figs/5.gif
Northern Europe does not get off lightly either. Although received wisdom might suggest that the region is least likely to suffer from this problem, being largely well-educated, relatively well-off and with a high proportion of state-supported healthcare, rates are considerably higher than in the African nations at around 4 per cent for men and women.
Chlamydia clearly isn't a problem for other people. It's an infection that is widespread amongst relatively wealthy nations, the UK being amongst them.
The British situation
Britain has a particularly difficult time containing Chlamydia amongst the population of sexually active people across the country. At particular risk of Chlamydia in particular are young people (9 Chlamydia statistics for teenagers), who are often hard to reach with sexual health messages and sometimes don't practise safe sex because of the barriers, real or perceived, to protecting themselves.
Figures released by the Health Protection Agency, a department of the UK government, showed that in 2012 there were nearly half a million new cases of sexual infection. While it's thought that some of those new cases were captured due to better data collection and better access to services, it remains an extremely high number.
While the half a million cases of sexually transmitted infection relates to all types of infections, rates for Chlamydia in particular remain high. Chlamydia is the most diagnosed sexually transmitted infection, with 46 per cent of sexual infections diagnosed as Chlamydia. Of course, there are cases where there is more than one infection present, so the numbers of infections may be somewhat fewer than the number of people with an infection.
The number of young people with Chlamydia is particularly worrying. Of all the diagnoses of the infection, 64 per cent of those were in people under the age of 25.
Early detection
One of the key ways in which the UK healthcare system and government are attempting to reduce the rates of Chlamydia is by ensuring that testing for the infection is widespread and easily accessible by those that are at risk of contracting it. As different types of tests (4 Chlamydia tests) become available, the ability of all people, including the young people who seem to be most at risk of developing Chlamydia, to access them increases.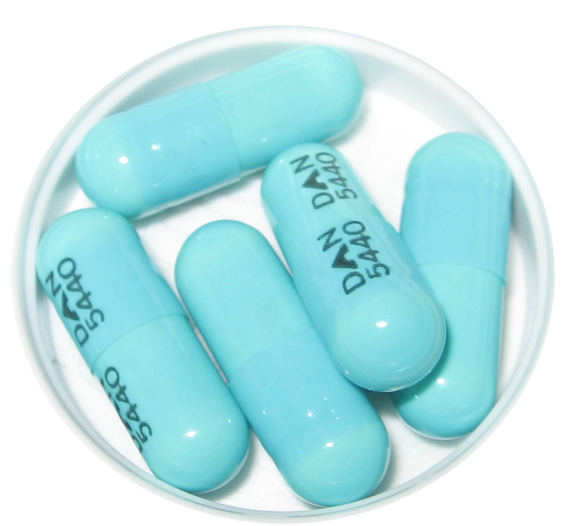 Prompt treatment, such as with these Doxycycline, is key
Source: http://upload.wikimedia.org/wikipedia/commons/e/e8/Doxycycline_100mg_capsules.jpg
In addition to visiting a doctor or sexual health clinic, many high street pharmacies now have testing kits that can provide a fast result and allow treatment to be started quickly. For those who do choose to go to a clinic, anonymity is guaranteed and no-one need know about the test unless the individual chooses to disclose that information.
For those who would rather remain completely anonymous, websites (12 Chlamydia treatments online) now offer a range of testing kits that can give a quick result at home. A test can be purchased online for as little as £9 and sent in an unmarked envelope to ensure complete privacy.
Prevention is better than cure
Improving access to testing and treatment is only one way in which the UK public health authorities are trying to reduce the rates of Chlamydia infection across the country.
Messages about engaging in safer sex are targeted at the groups of people that are more likely to contract sexually transmitted infections such as young people and men who have sex with men. Posters in clubs, information leaflets and billboard or radio advertising have all played their part in raising awareness of Chlamydia amongst the groups most likely to contract it.
Offering safer sex advice and access to condoms is another way in which health organisations are trying to stop infections before they start. Sexual health clinics will all offer free condoms to anyone who asks for them, while clubs, bars, colleges and universities often have schemes that allow people to access condoms for free to help keep them safe.
Conclusion
Chlamydia is a global health problem, with the UK firmly in pack of countries engaged in the race to the bottom in terms of rates of infection. However, authorities are doing many things that will help to prevent, detect and treat Chlamydia and help people access the assistance they need.